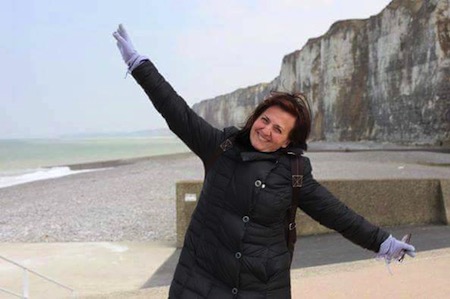 We are saddened to have to share the news of the death of Carole Aciman, 2005-2006 NCWBA president. A native of France, she was a New Yorker by choice and focused her practice on intellectual property law and entertainment law in an international context. She suffered a serious motorcycle accident in early May 2014 and remained in a coma thereafter. Below is a message from her brother, Jean-Marc Piacentile:
On Tuesday, August 18, 2015 at 6 pm at the University Hospital of Rouen, France, Carole died after 15 months of a fierce struggle to stay alive. The vital functions of her body deteriorated suddenly and her heart slowly but surely stopped beating. Thanks to the care provided by the medical profession, she left us without suffering. Carole will forever remain in our hearts as a loving woman, filled with the breath of life and the joy of living, profoundly kind, and always available to others. A ceremony in the chapel of Rouen University Hospital followed by cremation at the crematorium of Rouen will take place this weekend in the privacy of the family. On behalf of the family, I want to thank you for all the messages of support testified throughout this long and hard trial. There is one more star shining in the sky.
Download a page from the Winter 2007 NCWBA newsletter with a photo of Carole.
For those who have asked about making a donation for a cause in memory of Carole, the family selected Bard High School Early College, which is Carole's daughter's high school. Click on "giving" at the top for more information.
If you prefer to pay by check, you may mail your donation to:
Bard High School Early College
525 East Houston Street
New York, NY 10002
To read more about Carole, click here.